Governor Josh Green, M.D. | Gov. Green Announces $30M in Loan Repayment for Healthcare Professionals Who Serve Hawai'i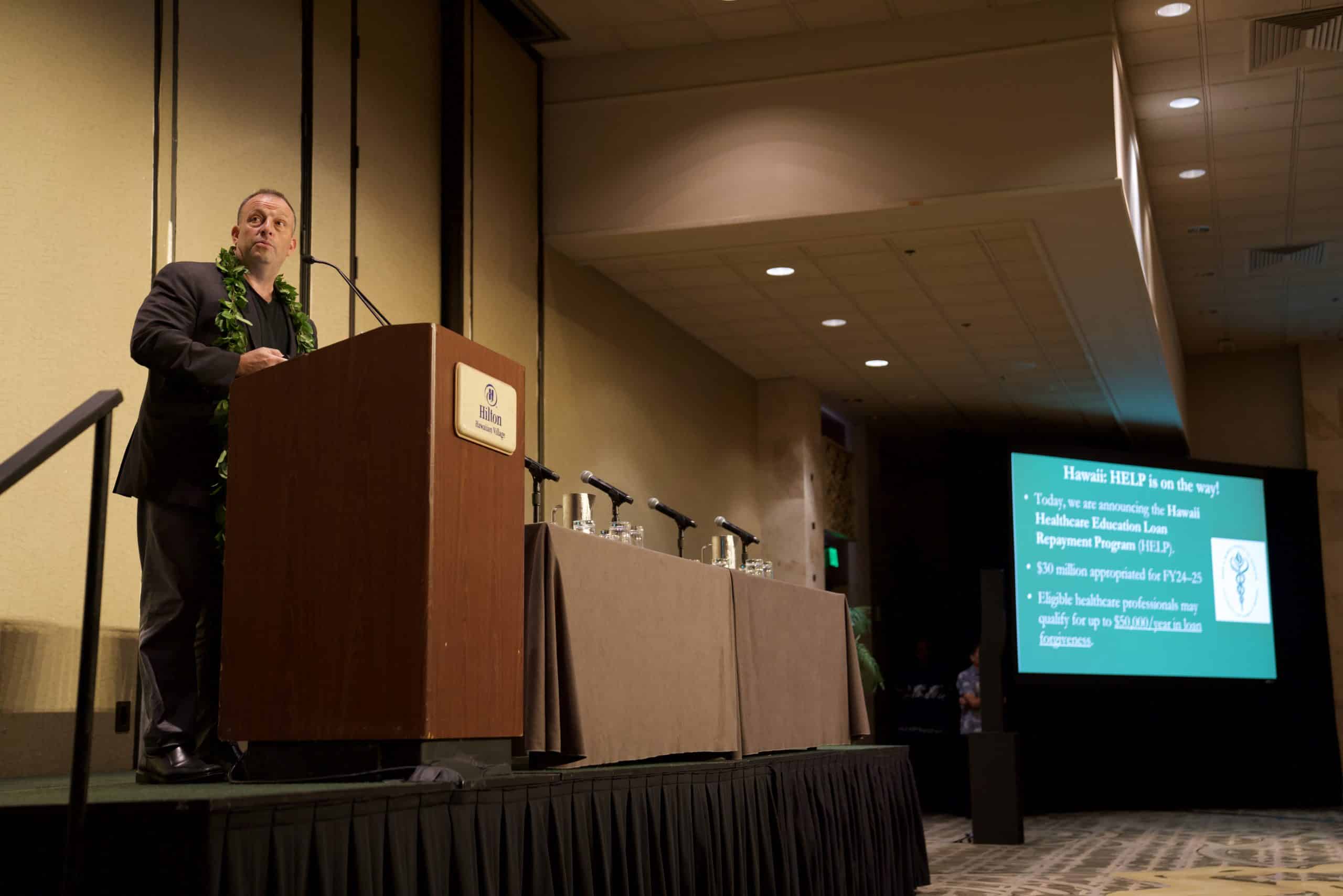 JOSH GREEN, M.D.

GOVERNOR
KE KIAʻĀINA
GOVERNOR GREEN ANNOUNCES $30M IN LOAN REPAYMENT FOR HEALTHCARE PROFESSIONALS WHO SERVE HAWAIʻI 
FOR IMMEDIATE RELEASE       
September 9, 2023
HONOLULU — Governor Josh Green, M.D., and the Hawai'i/Pacific Basin Area Health Education Center (AHEC) today unveiled an aggressive and far-reaching loan repayment program to address the growing shortages of physicians and other healthcare professionals across the Hawaiian islands.
Developed by the John A. Burns School of Medicine, (JABSOM), the Healthcare Association of Hawai'i, the State Department of Health and funded by the Hawaiʻi State Legislature, the Healthcare Education Loan Repayment Program (HELP) provides an unprecedented $30 million in educational loan debt repayment to health professionals licensed or otherwise certified to practice in and provide care to patients in Hawai'i.
"This announcement is the result of many years' worth of effort," Governor Green said. "I'm thinking back to my time working with colleagues in the state legislature on this loan repayment program and other ways to resolve the shortage of healthcare providers, so it is very rewarding to see it come to fruition so generously funded," he said. Governor Green came to Hawai'i through a similar program, the National Health Service Corps, and served the rural community of Ka'u, on Hawai'i Island.
HELP builds on the decade-old, federally funded Hawaiʻi State Loan Repayment Program by reaching a larger group of healthcare professionals. In exchange for two years of full-time or half-time service in Hawaiʻi, the following types of healthcare professionals will qualify for loan repayments starting at $12,500 and capped at $50,000. The eligible amount varies depending on the profession, location of practice, and educational indebtedness. All must provide care to, or work for organizations that provide care to, at least 30% of patients who are publicly insured.
Eligible professions include:
Audiologist

Behavior analyst

Certified physician assistant

Certified substance abuse counselor

Chiropractor

Clinical laboratory director

Clinical laboratory specialist

Community service dental hygienist

Community service dentist

Cytotechnologist

Dental hygienist

Dentist

Emergency Medical Technician (EMT)

Industrial psychologist

Licensed bachelor social worker

Licensed clinical social worker

Licensed marriage and family therapist

Licensed practical nurse

Licensed social worker

Medical assistant

Medical laboratory technician

Medical technologist

Mental health counselor

Midwife

Naturopathic physician

Nurse aide

Nurse anesthetist

Nursing home administrator

Occupational therapist

Occupational therapy assistant

Optometrist

Osteopathic physician and surgeon

Paramedic

Pharmacist

Physical therapist

Physical therapist assistant

Physician

Physician assistant

Podiatrist

Psychologist

Radiology technician

Registered Dietician

Registered nurse

Respiratory therapist

Speech pathologist

Surgical assistant

Surgical technician

Surgical technologist
HELP prioritizes specialists in Primary Care and Behavioral Health along with those practicing in rural areas (defined by the state as all neighbor islands and Waimānalo, Waiʻanae, Wahiawā, Hauʻula, Lāʻie, Kahuku, Haleʻiwa and Waialua).
The state expects HELP to improve recruitment and retention of providers serving vulnerable populations, as well as those in medically underserved areas of Hawaiʻi, while lessening the burden of large educational debt.
"The current federally funded and state-matched Hawaiʻi State Loan Repayment Program, has one of the highest retention rates in the country with 65% of loan repayers continuing to practice in their health professional shortage area and underserved community sites, and 80% of program completers still practicing in Hawai'i," said Hawaiʻi-Pacific Basin AHEC Director, Dr. Kelley Withy. "Our program works, and we are grateful to the 2023 legislature for continuing the matching funds for this federal program that targets the highest shortage areas and specialties. However, we know there is a severe shortage of multiple physician specialties, worse on the neighbor islands and rural Oʻahu, as well as critical nursing, allied health and behavioral health shortages."

"These shortages were most evident during the height of the COVID-19 pandemic, but continue today," said Interim Dean Dr. Lee Buenconsejo-Lum. "HELP expands loan repayment eligibility to so many working hard to keep the people of Hawaiʻi healthy. We hope that reducing their debt burden will help keep these professionals working here, and will also encourage our JABSOM graduates and others with Hawaiʻi ties to return home to practice."
The historic announcement was made at AHEC's annual Workforce Summit at the Hilton Hawaiian Village. Nearly 1,000 attended to brainstorm ideas to boost the number of physicians in Hawaiʻi, and many believe HELP will be the driving force in bringing medical professionals home.
The statewide shortage includes practitioners across the medical, dental, and behavioral and mental health fields, with demand for primary care physicians, behavioral health providers, and particularly high demand for specialty physicians practicing in rural areas. While Hawaiʻi's shortfall of approximately 4,000 healthcare professionals affects residents across the islands, residents of rural areas and those with public insurance experience the deficit in care most acutely.   
To address what has become a chronic statewide shortfall of healthcare professionals, the state legislature appropriated a total of $30 million for fiscal years 2024 and 2025 for the establishment of HELP. Licensed or certified healthcare professionals, or those in training, may qualify for up to $50,000 in annual loan forgiveness in exchange for a two-year commitment to serve patients in Hawaiʻi. 
The Hawaiʻi/Pacific Basin Area Health Education Center (AHEC) administers the program, and applications are accessible on its website.  Applications are accepted twice a year in October and April, and AHEC will disburse awards in January and July, respectively.  
While HELP is available to all qualifying healthcare professionals, Governor Green especially encourages medical and behavioral health professionals practicing in Maui to apply. 
For more information and to apply for HELP, please visit the AHEC website or call (808) 692-1060.
Assets from today's launch are courtesy JABSOM.
# # #
Media Contacts:   
Erika Engle 
Press Secretary 
Office of the Governor, State of Hawai'i 
Office: (808) 586-0120 
Email: [email protected]
Makana McClellan   
Director of Communications   
Office of the Governor, State of Hawaiʻi  
Cell: (808) 265-0083   
Email: [email protected]   
Matthew Campbell
Director of Communications
John A. Burns School of Medicine
Phone: (808) 852-1349
Email: [email protected]